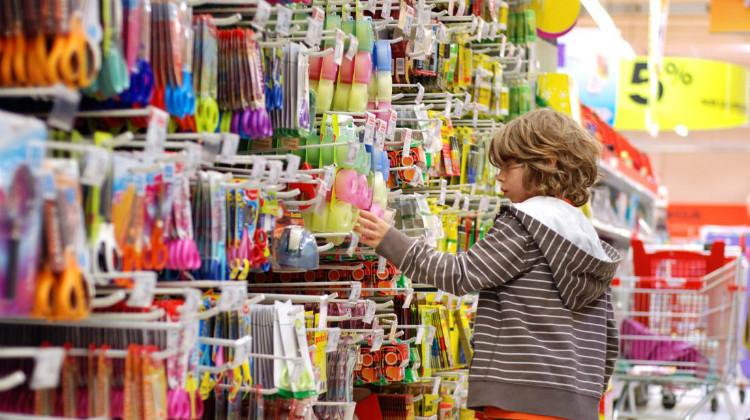 Summer is almost over and while for many parents that means a break from having the kids underfoot for three months, it also means that it's time for back to school shopping. According to the National Retail Federation, Americans will spend an average of $647 on school supplies! That's a big expense and maybe one you didn't think to budget for while you were lounging by the pool and having barbecues.
But we can show you some tricks to save money by getting the most out of your credit card rewards when it comes time to stock up for the new school year ahead.
Which Card Where?
It makes sense to use certain cards in certain stores or with certain on-line retailers. Obviously you want to use an Amazon card when you make Amazon purchases but you get two points per dollar spent when you use the card at drugstores too and most drugstores carry school supplies.
If you have a small business, consider signing up for the Chase Ink card. This card gives you 5% cash back at office supply stores which not only have a wider selection of back to school supplies than places like Target or Walmart, but are sometimes cheaper too.
Which Card When?
If you have a cash back card that has revolving categories, check when you get a bonus for spending at stores that sell school supplies. If you're card isn't currently giving the bonus for the store you buy your supplies from, just buy enough to make it through until the categories match up. Categories for most cards change quarterly so that means you just need enough to get your student through September and then the categories change and might be more useful for back to school shopping.
When isn't just a matter of bonus categories either. It might be a good idea to wait until your child's first day of school to do your back to school shopping. You might think you know what they need but many schools are handing out lists of needed supplies and while the usual things like notebooks are on there, there may be some things you buy that aren't needed and some things you had no idea they needed. Waiting until you can shop from the list will save time, money, and aggravation.
Sign Up Bonuses
If you need to save some money on back to school purchases, sign up for a cash back card with a great sign up bonus. Right now, the Chase Freedom Card is offering a $150 bonus after spending $500 in the first three months. And the 5% cash back revolving categories for the third quarter (July-September) are for restaurants and whole sale clubs so you can stock up on school supplies and non-perishables to use in packed lunches.
Shop Via Rewards Portals
Many credit cards have shopping portals where you can earn points for shopping on-line. Chase Ultimate Rewards is one of the best. They have 254 shopping partners and that includes Best Buy, Staples, Office Depot, and Office Max.
Not only can you save money, but you can avoid the hordes of fellow back to school shoppers and make all of your purchases from the comfort of your home!
Price Protection
Many credit cards offer perks that you may not even be aware of. Check if yours offers price protection. Price protection means that if you make a purchase and then find the item cheaper within a certain time frame, your credit card company will reimburse you the difference (up to a limit).
You might not bother with this if you're just buying things like pens and notebooks but if you have to buy your student a big ticket item like a laptop or television for their dorm room you might be in for a big refund.
And of course, just like Christmas decorations go on sale after Christmas, school supplies go on sale in September, well after most kids are back in school. If you use a card that offers price protection, you can shop now and save later!
Extended Warranties
This is another often overlooked perk of credit cards. For those of you making a big ticket purchase like a laptop or tablet, read the fine print before choosing a card to charge that purchase on. Some good rewards cards will extend a manufacturer's warranty for an extra year.
They may also replace an item that was damaged or stolen, things typically not covered by a manufacturer's warranty.
Take a Tax Holiday
Some states suspend sales tax on certain purchases and if you live in a state with this policy during back to school shopping season, you can save even more. In fact, it's not a bad time to get a jump on your holiday shopping too. You can find a list of tax holidays here.
Cash In
Did you sign up for a great travel card with the intention of using your points to quit your job, become a vagabond, and travel the world? And then you didn't? Well, don't let those travel points go to waste (or expire as some of them do). Cash those points in for gift cards and do your back to school shopping with those!
If you have a credit card that offers good cash back rewards at grocery stores you might be able to save on back to school shopping even if your super market doesn't sell school supplies. Many super markets sell gift cards for other retailers. You can purchase those gift cards and get the cash back rewards when you use them to do your back to school shopping.
If you use those gift cards to shop through a credit card portal, you can replenish your supply of points so they'll be there when you finally do quit your job to travel the world!
Gas Up
Because it just kinds of gets wrapped up in daily life, it can be easy to forget how much driving is involved when your kids go back to school. Maybe you drive them to and from each way and even if they bus, walk, or bike to school, you might spend a lot of time and gas ferrying them to after school activities.
Make sure you have a good cash rewards card that gives you cash back when you spend money at gas stations. You don't only earn points on gas, but on the snacks and drinks you buy too which includes the coffee you buy to stay alert for those early morning runs.
0% APR
If you have a student starting college or moving into their first apartment, you may be spending a great deal more than the $647 the average family is. Even the proverbial futon and milk crate end tables can start to add up when you have a whole apartment to furnish so opening a 0% APR credit card is a smart move.
Some cards have a no interest period as long as 18 months. This will give you a nice long time to get that laptop and all of those pots and pans paid off! Please note that you still need to pay at least the minimum balance each month and pay off the entire balance before the 0% APR period ends or you will be hit for the regular interest rate.
The Most Wonderful Time of the Year
Back to school is such an exciting time. The hope of a new year, fresh pads of paper, pencils sharpened to a fine point. Don't let the expense overwhelm the promise of a new year. By using the right credit cards in the right way, you can send your kids back to school without breaking the budget.