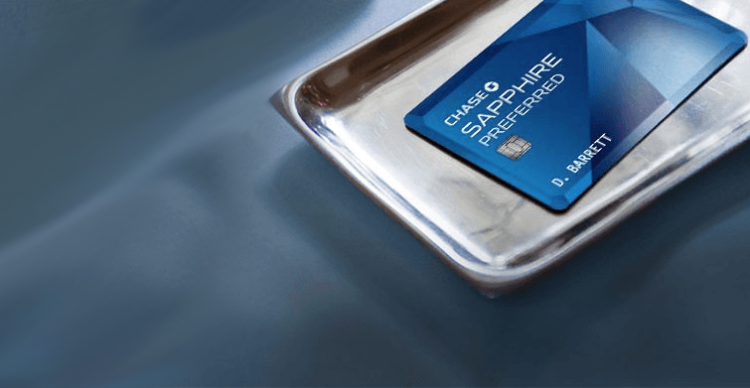 In the past, you may have been thrilled to receive any kind of credit card offer. Nowadays, it pays to be picky. Credit cards offer more rewards than ever before. Points, miles, cash back, bonuses, 0% interest offers – it seems as though banks are competing with each other to gain you as a customer. So if you're in the market for a new credit card, which one should you choose?
The Chase Sapphire Preferred credit card has gotten a lot of hype in recent years – in a good way. This card offers a slew of benefits, especially for those who travel often. Even if you don't travel, you can redeem the points you earn for gift cards, merchandise and even credit toward your statement. The only downside is that the card has an annual fee of $95 (the fee is waived the first year). But if you use the card often, you'll earn much more than that in rewards.
Should you get the Chase Sapphire Preferred credit card? Yes. No matter who you are or how you use your card, you're sure to reap many benefits. Read on to find out exactly what those benefits are so you can see for yourself how nice it would be to have this card in your wallet.
Benefits of the Chase Sapphire Preferred Credit Card
If you spend $4,000 in the first three months, you'll receive 50,000 bonus points. Because you receive an extra 25% when you redeem your points on travel (hotels, airfare, cruise and car rentals), that's $625 in travel credits. Don't want to spend your points on travel? Each point is valued at one cent, so you can redeem those points for cash and get a statement credit of $500. Either way, that's a lot of money and you won't find any other credit card that offers so much in rewards right off the bat.


Add an authorized user in the first three months and receive 5,000 more points when they make a purchase. That's another $50 in statement credit or $62.50 in travel rewards.


No fees for foreign transactions.


No annual fee for the first year ($95 thereafter).


1:1 point transfer to select airline and hotel loyalty programs. Transfer your points to Southwest Airlines, Marriott, Hyatt, British Airways and IHG.


Receive 2x points on dining and travel and one point for every dollar spent on all other purchase categories.


No blackout dates or other travel restrictions.


You can pair it with the Chase Freedom card and earn even more points in the Chase Ultimate Rewards travel program. The Chase Freedom card offers 5x reward points in various categories every quarter, and these points can be pooled with the points you earn with your Chase Sapphire Preferred credit card. You'll get the most bang for your buck and save big on your travel purchases – a must if you're saving for a big vacation or travel frequently.
| | |
| --- | --- |
| | Southwest Airlines Rapid Rewards®Premier Credit Card |

intro apr

N/A

N/A

regular apr

16.24%

16.24%-23.24% Variable

fees

$95

waived for the first year

promo
Why Get the Chase Sapphire Preferred Credit Card
Flexible rewards. You don't have to redeem your points for one thing only. You can use them for statement credits, gift cards, merchandise and travel. Use them on your annual vacation. Use them on a sporty rental car while your car is in the shop. Use them on a romantic night in a hotel for you and your significant other. Take a long-awaited cruise. The options are endless.


The rewards are plentiful. You not only get a huge sign-up bonus but you also earn points quickly on every purchase. For every 100 points you earn, that's $1 in statement credit or $1.25 toward travel – it's up to you how you want to spend it. Use your card to pay for travel and dining and earn double the points. It's so easy to earn and redeem. There are no other cards that offer so much for so little.


Going on vacation? You're covered. So many things can go wrong while on vacation. Your car may break down. You may get in an accident with your rental car. Your flight might get delayed. Rental car companies and airlines offer insurance for instances like thee, but it's so expensive. With the Chase Sapphire Preferred credit card, you're covered. You get trip cancellation and interruption insurance free of charge. This means that you'll get reimbursed if you're stranded or if your trip is cancelled through no fault of your own. You also get primary rental car coverage, also free of charge. This means that you don't have you use your personal auto insurance or purchase it through the rental car company. Another benefit you might not know about? Baggage delay insurance. If your baggage is delayed by six hours or more, you may be eligible to receive $100 a day for up to five days.


Purchase protection. Use your Chase Sapphire Preferred credit card to pay for personal property (electronics, furniture, tools and other household items) and it will be covered for 120 days. During this period, if the item is stolen or damaged, it will be replaced or repaired, up to a $500 limit. This means that if your TV is stolen or you spill coffee on your iPad within the first four months, Chase has you covered.
Bottom Line
The Chase Sapphire Preferred credit card has been voted one of the best airline, hotel and cash back rewards cards. There is a lot of flexibility when it comes to reward redemption. With so many rewards and excellent reviews, you can't go wrong. The only way you'll lose out is if you don't apply for your card today.